Keep your commercial HVAC system operating at peak performance.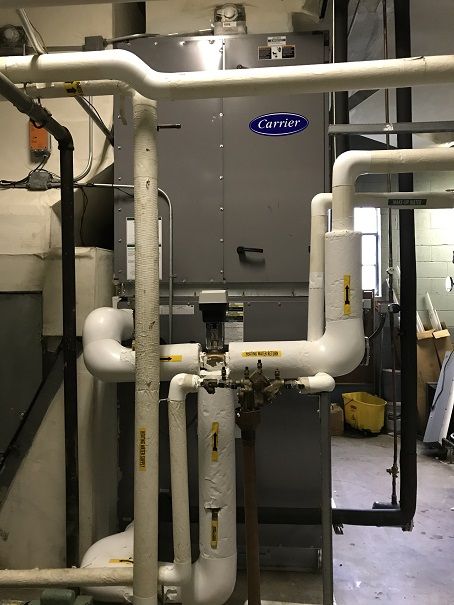 Keep your business running smoothly with the commercial HVAC services provided by JLK Mechanical. We perform heating and cooling repairs on all makes and models of equipment. We service small to large rooftop package units, split systems, heat pumps, furnaces, chillers, boilers, VAV systems, electrical heaters, control systems, and more.
Commercial HVAC equipment is much larger than residential equipment since it requires heavier heating and cooling loads and demands more intense use. This equipment is typically more complex when it comes to its configuration as well, and most commercial systems feature multi-zone options. We know that the best course of action for repairs, maintenance, and service depends on your business, and we are prepared to provide the personalized, on-demand service your facility needs.
Our team members contribute to the quality of our commercial HVAC services, and we only hire experienced, qualified tradesmen who understand the intricacies of commercial HVAC systems. On top of this, we realize that when you need HVAC service, your facility needs it fast. Otherwise, you face unsafe working conditions, downtime, and even lost profits. We proudly provide 24/7 availability within our vast service area and guarantee swift, effective solutions whenever the need arises.
Choose us at JLK Mechanical as your commercial HVAC provider for better service, results, and system efficiency. Set up an ongoing maintenance schedule with us today or find out more about how we can set up your business with a short-term HVAC rental in the event of an outage.
FAQs about Commercial HVAC
You may not need to know every facet of the inner workings of your company's commercial HVAC system but that doesn't mean you don't have questions that need to be addressed. At JLK Mechanical, we believe an informed customer is our best customer, so we welcome any questions you might have that can help you select the right system for your building and care for it properly. Here are two common questions we get asked, but feel free to reach out to us with any others you might have about commercial HVAC systems.
How often should a commercial HVAC system be inspected and maintained?
No two companies are exactly the same in this regard. There are numerous contributing factors that determine how often your commercial HVAC system should be serviced. We are prepared to provide a personalized schedule based on your situation and provide information about signs you should watch out for that indicate you should give us a call. With that said, you can't have your system serviced too often, but you can do it too infrequently, so we recommend erring on the side of caution and scheduling it at least a couple of times a year.
Can you advise me on how soon I'll need to replace my commercial HVAC equipment?
With more than 60 years of HVAC experience, we are in a good position to give you a replacement recommendation. Since there are so many variables involved, we try to take all factors into account to give our best recommendation. During a maintenance visit, we can address the question as to whether it might be time for replacement based on the reliability and energy-efficiency of your current commercial HVAC system.